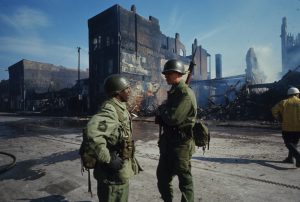 September 30, 2022
Over 6,200 images published from the Declan Haun collection
Over 6,200 images from the Declan Haun collection of visual materials have been published to CHM Images, including recently-digitized 35mm black-and-white negatives of Chicago's Woodlawn neighborhood and The Moratorium to End the Vietnam War in Washington, D.C. Other topics include 16th Street Baptist Church Bombing, the March on Washington, civil rights movement mass meetings and press conferences attended by Dr. Martin Luther King Jr., Rev. Ralph Abernathy, Jackie Robinson, Floyd Mayweather, Dick Gregory, and others, activity in Alabama in the days leading up to the Selma to Montgomery March, and more...
October 20, 2021
New images added to Chicago Sun-Times collection
Approximately 645 new images from the Chicago Sun-Times photography collection have been published to CHM Images. Topics include Dr. Martin Luther King Jr. and civil rights activity in 1950s and 1960s Chicago, early Second City performances, scenes from South Side neighborhoods, the funeral and burial of Emmett Till, and more...